BARISTA BASICS RINSERS FROM ESPRESSO PARTS
Rinsers are one of those elements behind the bar that get taken for granted. If you have one, it's part of your natural flow. If you don't have one, but you've used one, you know how wonderful they really are.
Barista Basics understands efficiency. Efficiency when it comes to pulling shots, steaming milk, cleaning up, and every step in between. Those little in between steps become second nature for a barista, but even the best baristas can be limited by a clunky process.
Rinsers are a crucial element for increasing efficiency in a barista's process, and can ultimately lead to more drinks in less time, meaning more profit for a coffee shop. Designed for quick, easy use, rinsers have a star shaped sprayer that lets you put pressure from any angle to activate the spray nozzle. A barista can simply push a pitcher over the nozzle and push down to get a pressurized dose of hot water that cleans the pitcher and immediately falls down into the built-in drain. Fast, easy, and effective.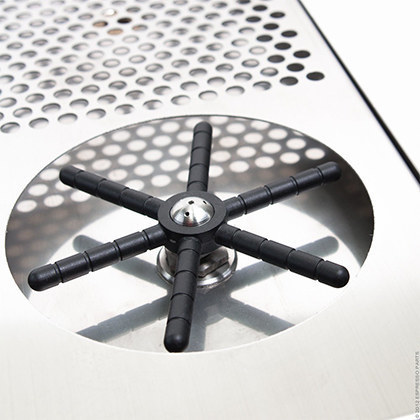 Espresso Parts carries inset and countertop rinsers, as well as replacement parts to help keep you on top of your game. You can see our selection here.
Now certified by NSF International, all rinser units conform to the requirements of NSF/ANSI 169 - Special Purpose Food Equipment and Devices. For an official copy of the NSF/ANSI Certification Document please email info@espressoparts.com with the subject "Rinser NSF."