ESPRESSO MACHINE BOILER CLEANING
Flushing the boiler on your espresso machine is an often overlooked bit of maintenance. Your machine is full of water and solids fall out of suspension all the time. While water is constantly being added, it's not being flushed, simply diluted. The only way to get completely fresh water in your machine is to remove all of the water and replace it.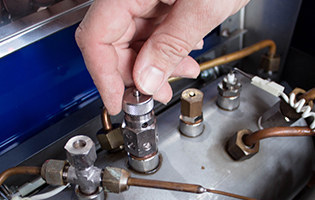 1. Turn offmachine. And open the steam valves. Allow all steam pressure out of the machine.
2. Remove drip tray.
3. Locate the drain valve. It is usually either the valve closest to the drain cup or on the bottom of the boiler.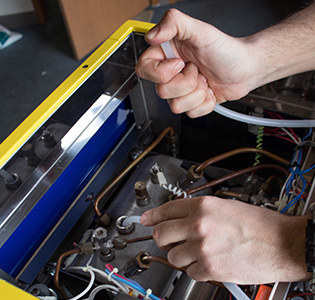 4. Slowly open the drain valve - hot water should start to drain. If your machine won't drain (most often due to mineral build up in the bottom of the boiler) you may have to siphon out the water from the top of the boiler. Please check out the included photos for removing theover pressure relief valve and siphoning the water out. Don't forget a gasket for your valve.
5. Once the water stops draining close the valve. Pro Tip: a valve is open when the lever runs parallel to the water line, it is closed when the lever is perpendicular to the line.
6. Open the steam valves - turn the steam wands on and keep them locked in the on position. This is a great time to replace your anti-vacuum valve if you don't know the last time it was replaced. This valve protects your boiler from sucking contaminates back into the machine.
7. Use the manual fill valve to fill the boiler to the max line on your sight glass. Some commercial espresso machines have a position on the power switch that is a fill only option. This would be appropriate to use now as well. Do not turn on the machine to heat. Not yet!
8. Once again open the drain valve and drain the machine.
9. Once it stops draining, close the valve.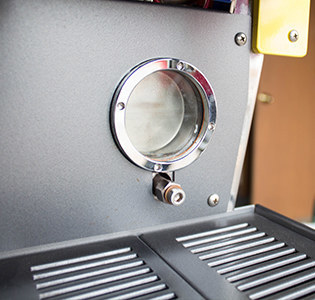 10. Manually fill the boiler once again. Make sure boiler is between ½ and ¾ full max (do not overfill).
11. Close steam valves, place steam wandhandles / leversin the "off" position.
12. Power on the machine.
13.Unitshould now be full & heating - coming to temperature. It should take 30-60 minutes forunitto be in operating condition.