Parts Ship Free on Orders $15 or More!
No coupon code needed. Just add to cart for free shipping!
Quick Shipping
This product usually ships same day.
Price Match Guarantee
We strive to offer the best pricing, request a price match here.
Details
This is the Gicar FMRT-F-F version, with a 1.5 mm diameter orifice (nozzle). G 1/4" female threads. A functional flowmeter when tested with a multi-meter will result in a reading of 2.2k ohms.
Espresso Parts Guarantee:
We guarantee a full refund or replacement of all defective products at no additional cost to you. Most electrical items have specified limited warranties. If an electrical device fails to function due to manufacturers defect, Espresso Parts will repair or replace the device (TBD).
*Important Note: All Special Order Items, Equipment, Electrical Items (scales, heating elements, switches, flowmeters, vibratory pumps, thermostats, etc.), Pump Heads, Solenoids, Custom Work and Books are NOT eligible for return. All sales are final on this merchandise.
 Learn more on our 
return policy page
. 
If you have any questions or need assistance we have an awesome customer support team that would love to help you! Please call us! 1-800-459-5594 or email 
info@espressoparts.com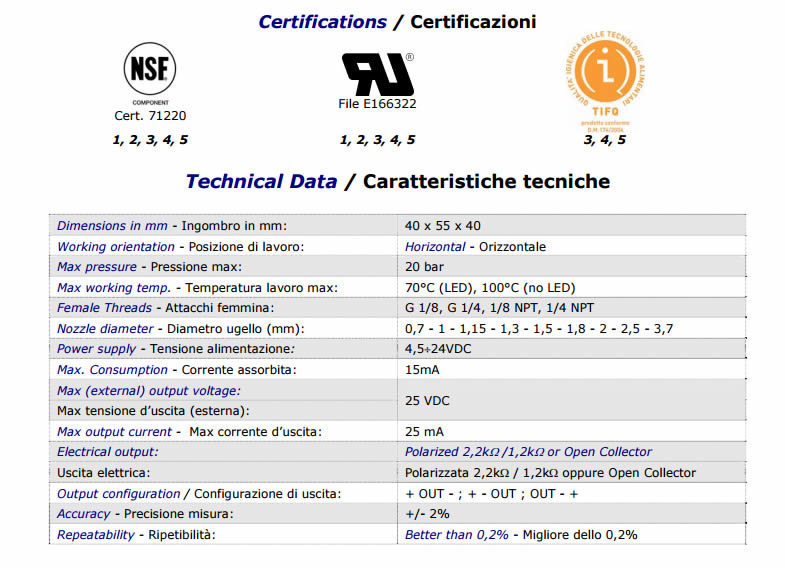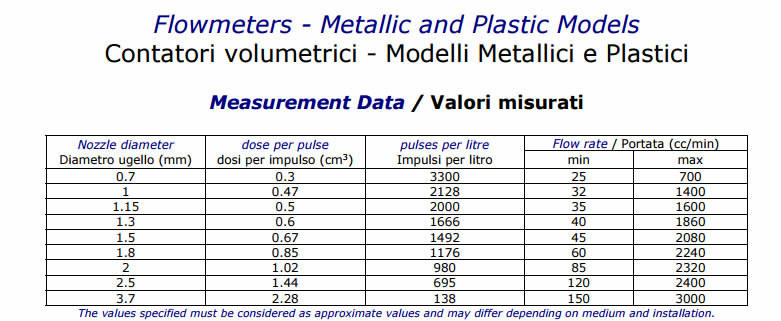 Cross-references:
34070050PROMAC
| | |
| --- | --- |
| Part number | Manufacturer |
| ASCASO | V..499 |
| 9.0.54.05G | GICAR |
| 9.0.55.05G | GICAR |
| 9.0.78.00 | GICAR |
| 9.0.78.00G | GICAR |
| 9.0.95.05G | GICAR |
| 9.0.95.19G | GICAR |
| 9.0.96.06 | GICAR |
| LAD070 | MARZOCCO |
| 300038 | NUOVA RICAMBI |
| 10705126 | RANCILIO |
| 10705201 | RANCILIO |
| 10705208 | RANCILIO |
| 34070050 | RANCILIO |
| R418 | RICAMBI GARDOSI |
Customer Reviews