Parts Ship Free on Orders $15 or More!
No coupon code needed. Just add to cart for free shipping!
Quick Shipping
This product usually ships same day.
Price Match Guarantee
We strive to offer the best pricing, request a price match here.
Details
FKM seal - orifice ø 1.5 mm
with coil BDV08230AY 230/240V 50/60Hz 16VA
temperature -10°C+140°C
This three-way solenoid valve assembly is used in La Marzocco equipment as the group head water distribution solenoid. For this application they are installed with the water flow following the indicating arrow on the bottom of the brass valve body. NOTE!!! These are also used on the steam boiler auto-fill water inlet. When installed in combination with the MZ_453 cap and MZ_454 plug (not included) these are modified into a two-way valve. For this application they are installed backwards, with the water flowing opposite of the indicating arrow on the bottom of the brass valve body. As La Marzocco states:
"The steam boiler solenoid valve is a three-way solenoid valve with one port (top port) sealed shut. The sealed top port creates a modified two-way valve. Under normal conditions the steam boiler solenoid valve operates at a constant differential pressure of 105 p.s.i. If mounted incorrectly, a differential pressure greater than 130 p.s.i could cause the solenoid valve to open thus causing the steam boiler to overfill. The overfilling of the steam boiler would render the steam boiler useless and could present a hazardous situation. This valve is orientated and installed in the machines as indicated in the drawings below to avoid an overfill situation in the steam boiler. Any other orientation or installation of this valve is not recommended."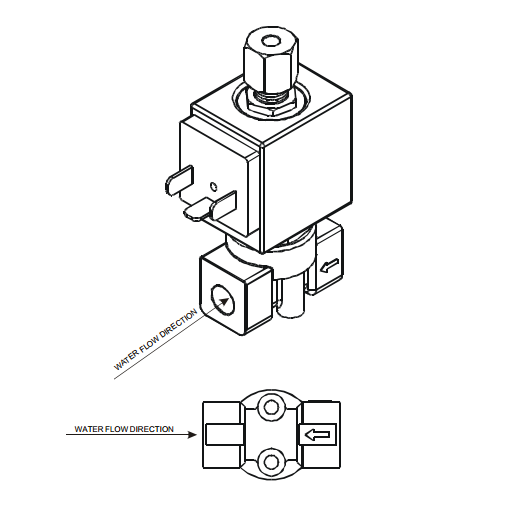 Also available: just the coil, part G_251 or valve nucleus, part G_253. Uses W_635 voltage connector. These employ what is called a "mechanical" seal for the valve guide, so no o-ring is used.
Espresso Parts Guarantee:
We guarantee a full refund or replacement of all defective products at no additional cost to you. Most electrical items have specified limited warranties. If an electrical device fails to function due to manufacturers defect, Espresso Parts will repair or replace the device (TBD).
*Important Note: All Special Order Items, Equipment, Electrical Items (scales, switches, etc.), Pump Heads, Solenoids, Custom Work and Books are NOT eligible for return. All sales are final on this merchandise.
 Learn more on our 
return policy page
. 
If you have any questions or need assistance we have an awesome customer support team that would love to help you! Please call us! 1-800-459-5594 or email 
info@espressoparts.com
ODE Assembly number 31A31A1V15:
31 = Three-way
A = Valve Series
31 = 1/8" Thread
A1 = Normally Closed
V = Viton Seal
15 - 1.5 mm Orifice
Customer Reviews