Your Grinder Burr Parts Guide
YOUR GRINDER BURR PARTS GUIDE
All of you coffee aficionados out there know that when it comes to making good espresso, consistency is key. Quality is hard to find in pre-ground coffee, as oxidation breaks down the flavorful oils and aromatic compounds that you love, resulting in that generic roasted taste. No sir, if you want a good brew, you're going to need an equally good grinder. Yet with so many out there to choose from, how will you know which is best?
FOCUS ON QUALITY AND PRICE
Two factors will have a heavy influence on your choice of grinder: quality and price. There's an old adage that says "you get what you pay for," and this is certainly true in the case of a coffee grinder. If your desire is to produce outstanding espresso no matter the cost, then you should consider investing in a high-end burr grinder. While a premium grinder like the Swift Espresso from La Marzocco can cost up to $5,500, such a machine is virtually guaranteed to give that particle consistency that's going to produce the best flavors.
That's not to say that you can't find a good burr grinder on a budget. Many quality electric grinders come in at perfectly reasonable prices, while hand grinders from manufacturers such as Handground, Hario and Yama can all be yours for under $100.
Of course, choosing which grinder to buy is only half the battle; you also need to have a reliable source of grinder burr parts in order to ensure the continued performance of your equipment, such as:
Burr carriers
Burr covers
Fixing bolts
Grinder cleaner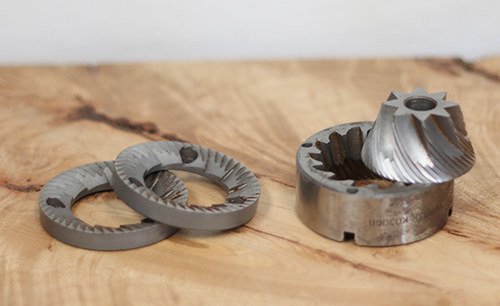 There are two styles of burrs, conical burrs and flat burrs. Both can produce and excellent uniform grind size as long as they are well taken care of. To take care of your grinder burrs, we recommend deep cleaning at the end of each week and replacing your burrs every 6 months for high volume cafes.
Click Here to check out our tutorial on How to change Grinder Burrs
Both flat and conical burrs made from ceramic or steel can be found from trusted manufacturers such as Anfim, Baratza and Mazzer. Study your owner's manual to learn whether or not your equipment requires custom or special order parts, as only exclusive providers offer such materials
WE'RE HERE TO HELP
Enjoying delicious, freshly brewed espresso or coffee prepared using your own burr grinder is closer to becoming a reality than you think. Thanks to the many different products that we at Espresso Parts offer, we can find the perfect piece of equipment to help you satisfy your customers' tastes or to simply indulge in decadent espresso in the comfort of your own home. Our extensive parts catalog also ensures you the ability to keep your machine in optimal condition.