Details
E-Series prefilters (previously clear - now black) are designed to increase the life of Everpure carbon water filters in areas with an unusual amount of dirt in the water. With a 10 micron (nominal) rating, the Everpure prefilter traps much of the dirt which contributes to scale buildup in ice makers, and clogs the delicate orifices of other water-using equipment.
The standard EC110 Cartridge is provided with each Model E10 Filter. It is rated at 10 microns nominally and has a more-than-adequate life when filtering water with "normal" or average dirt loads.
APPLICATIONS AND FEATURES
General purpose coarse filtration

Pre-filtration for fine filters

Reduces dirt, rust, oxidized iron sulfide

High-strength materials
FILTER SPECIFICATIONS
Head has 3/4" female pipe threads (also includes reduction adaptor fittings for 1/2" FNPT or 3/8" FNPT) for inlet and outlet pipe connections: it is constructed of polypropylene. Dirt/Rust cartridges are graded density spool type, with synthetic materials.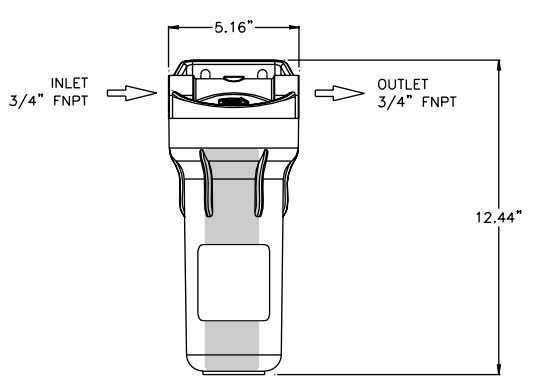 DESCRIPTION: 
Prefilter System for foodservice applications
Filters out larger dirt and rust particles

Extends the life of primary filter cartridges

Tightly spun EC110 sediment cartridge delivers 10 micron nominal filtration

Durable slim bowl design makes cartridge change outs easy to handle

10" bowl design accepts most 10" drop in cartridges
NOTE: The contaminants or other substances removed or reduced by this drinking water system are not necessarily in your water. Do not use with water that is microbiologically unsafe or of unknown quality without adequate disinfection before or after the system. Systems certified for cyst reduction may be used with disinfected water that may contain filterable cysts.
Features:
Particulate Reduction

Prefiltration
Capacity: Varies
Maximum Flow: 6.0 gpm (22.7 Lpm)
Qty. per Case: 1
Working Pressure: 10 - 125 psi (0.7 – 8.6 bar), non-shock
Max. Temp: 35 - 100°F (2 - 38°C)
Inlet Outlet Size: 3/4"
Operating Weight: 6 lbs
Shipping Weight: 4 lbs
H: 12.44" W: 5.16 D: 5.5" 
INSTALLATION TIPS
Choose a mounting location suitable to support the full weight of the system when operating. Make sure to properly lubricate o-ring prior to use. Use 3/4" water line (optional reducer bushings included). Install vertically with bowl hanging down. Allow 2-1 ⁄2" (6.35 cm) clearance below the cartridge for easy cartridge replacement.
IMPORTANT: Always use a NSF approved pipe dope or PTFE plumbers tape at all thread connections.
Customer Reviews
Attention CA Residents: Prop 65 Warning
WARNING: This product can expose you to chemicals including lead, which are known to the State of California to cause cancer, birth defects, or other reproductive harm. For more information, go to www.p65warnings.ca.gov.