TORR TOYS GLASS HOPPERS
Are you ready to take your love of coffee to the next level? At Espresso Parts, we are here to help with the finest tools, parts, accessories, and supplies. Upgrade the style and functionality of your coffee equipment with a one-of-a-kind glass hopper from Portugal-based Torr Toys.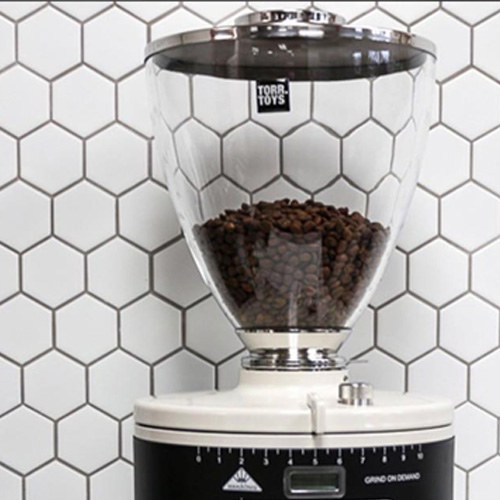 EXCEPTIONAL QUALITY WITH ARTISTIC FLAIR
Each Torr Toys glass hopper is a truly unique blend of form and function. These hand-blown glass hoppers are made by skilled artisans following traditional methods. At Espresso Parts, we offer two different Torr Toys hopper styles: Crystal Optics and Crystal Clear. The Crystal Clear style is a perfectly transparent design, stunning in its simplicity. The Crystal Optics hopper is produced using a special mold to create distinct vertical waves along the outside of the glass. Whether you choose the smooth finish of the Crystal Clear style or prefer the undulating waves of the Crystal Optics hopper, you will enjoy the unmatched quality that only exists in handmade pieces.
Both styles feature a high-gloss stainless steel adapter and lid that have been polished by hand. The glass is mounted to the adapter with durable food-grade silicone. You can choose from three sizes (300g, 600g, and 1300g) depending on how many coffee beans you want to store. Adapters are available to fit a variety of grinder models from brands such as:
Mahlkonig
Macap
Mazzer
Compak
Elektra
Why should you choose a glass hopper for your grinder? Aside from the beautiful appearance and smooth feel, there are several other advantages to glass:
Chemically neutral, so it won't affect your coffee's aroma or taste
Easy to clean
More hygienic than other materials such as plastic
Doesn't degrade due to age
Odorless and tasteless, so it doesn't change the flavor profile of your coffee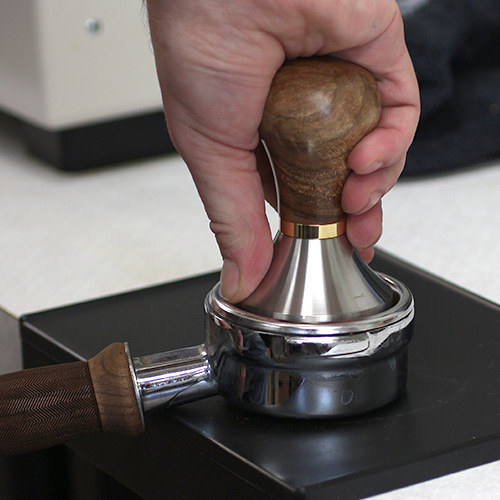 Take your espresso making to the next level with the Torr Toys Tampers. These are not your ordinary tampers. They come in the beautiful options listed below as well as special and limited edition options.
Standard Handle Woods
African Blackwood
Zebra Wood
Palisander
Walnut
Olive
Handle Metals
Compliment your Torr Toys Glass Hoppers with a Torr Toys Tamper. Contact us today!
We are committed to offering our customers only the best espresso parts and accessories, including Torr Toys glass hoppers and tamps. Browse our selection here or call us at 800-459-5594 for more information.