Our Guarantee
Worry free shopping with our 365 day guarantee.
Quick Shipping
This product usually ships same day.
Experts Standing By
Drop us a line via chat or email if you need any help at all.
Details
The perfect pump for use with espresso and coffee equipment and is a direct replacement part for pumps installed by many cart manufacturers.
SHURflo 2088 Series Delivery Pump is a fully automatic, self-priming diaphragm pump, ideal for high-volume applications such as vending machines for both delivery and reservoir draining. The pump activates automatically as line pressure drops and shuts off when a preset pressure is achieved. We highly recommend the use of an accumulator tank (part #9013) to help reduce cycling of the motor. This is the Shurflo 2088-594-144 model. Factory installation and operation manual here.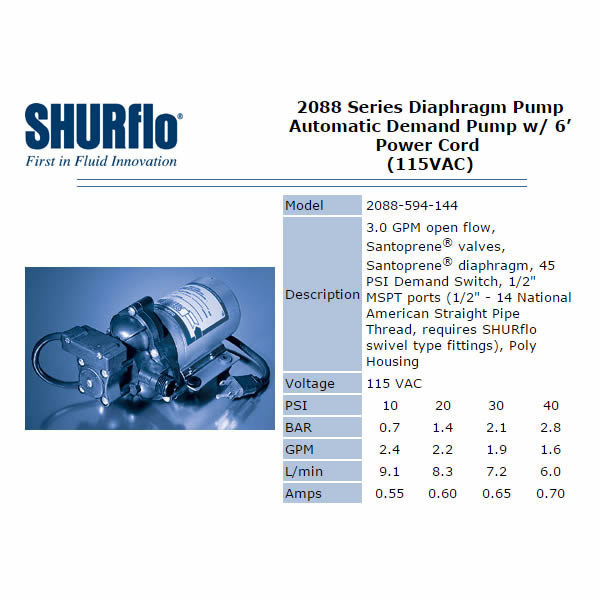 Espresso Parts Guarantee:
We guarantee a full refund or replacement of all defective products at no additional cost to you. Most electrical items have specified limited warranties. If an electrical device fails to function due to manufacturers defect, Espresso Parts will repair or replace the device (TBD).
*Important Note: All Special Order Items, Equipment, Electrical Items (scales, switches, etc.), Pump Heads, Solenoids, Custom Work and Books are NOT eligible for return. All sales are final on this merchandise.
 Learn more on our 
return policy page
. 
If you have any questions or need assistance we have an awesome customer support team that would love to help you! Please call us! 1-800-459-5594 or email 
info@espressoparts.com

DESCRIPTION
Shurflo 2088 Series Pumps are high flow, low pressure pumps ideally suited for beverage and water applications such as city water pressure boost, portable cart water delivery, batch and transfer of product. These pumps activate automatically as line pressure drops and turns off when a preset pressure is achieved.
FEATURES
Self-priming up to 12 vertical lift feet [3.7m]
Used in delivery and transfer applications up to 3.0 GPM [11.4 LPM]
UL/CSA-recognized components
Automatic turn on / shut-off
Customer provided power supply required
SPECIFICATIONS
115 VAC
3.3 GPM [12.5 LPM] open flow
Santoprene® valves
Santoprene® diaphragm
45 PSI [3.1 BAR] shutoff
1/2"-14* NPT male ports
NSF-, UL-, and CUL-listed
Corded

SHURflo warrants Industrial 2088 series pumps to be free from material and workmanship defects (under normal use and service) for a period of one (1) year from the date of manufacture. or (1) one year use with proof of purchase, not to exceed 2 years.
Customer Reviews