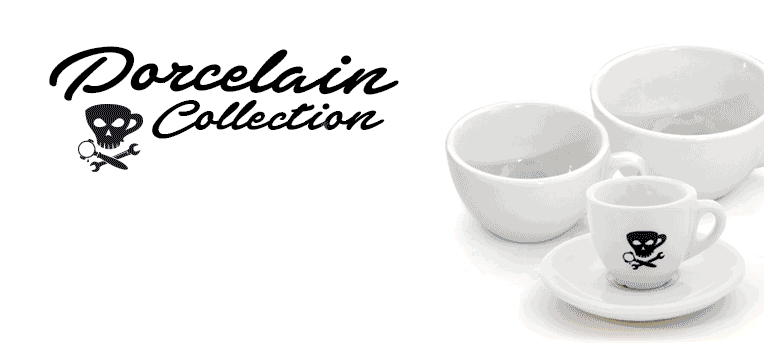 Porcelain began as a mysterious and rare material attainable only by the wealthiest collectors. Barista Basics has taken this luxury item to new heights with a line of porcelain cups that are as practical as they are beautiful. Espresso Parts carries several different styles of porcelain cups from Barista Basics to fit your style or the style of your shop. Each of the styles is dishwasher safe, microwave safe, heavy duty porcelain, and each different style offers a unique feel to your shop.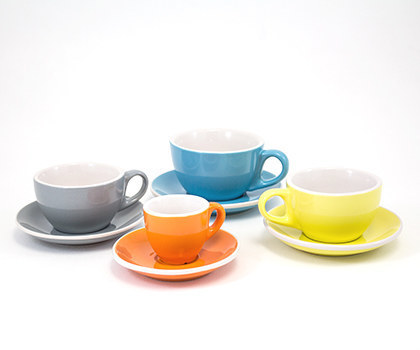 Our cafe style cups have a classic feel, with a wider, rounded form rather than the depth of a traditional mug. This cup is second to none for pouring latte art, as the wide mouth and rounded edges allow baristas to hold them more naturally in the hand while getting the pitcher deep into the cup for precision pours and excellent control. Our cafe style coffee cups are available in blue, brown, gray, orange, yellow, black, and white.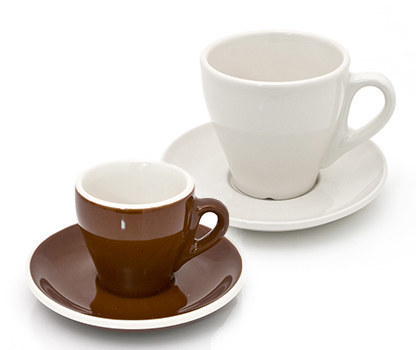 Our tulip style cups are wider at the top, getting more narrow toward the bottom. This creates an elegant feel that can maintain temperature as you drink from the wider, more exposed surface area first. A practical cup, as well as beautiful, the tulip style is a great choice for demitasse, cappuccino cup, and latte cup.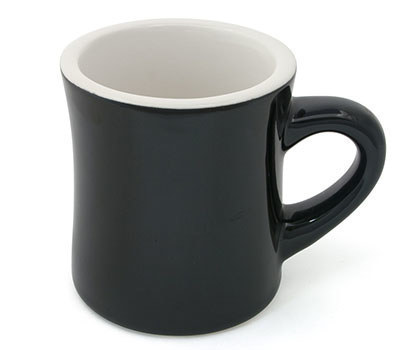 Our diner style mugs are the traditional, sturdy mug you would expect to see in a diner. They come in Brown, Black, or White, with Grey and Blue options coming soon. Each mug is a hefty 17oz before adding any coffee, and can sustain more intense levels of use than our other styles, making it the most durable coffee mug we offer.
Do you have a favorite style from the ones listed above? Want to make it your own? Every style is available for wholesale, and is even customizable.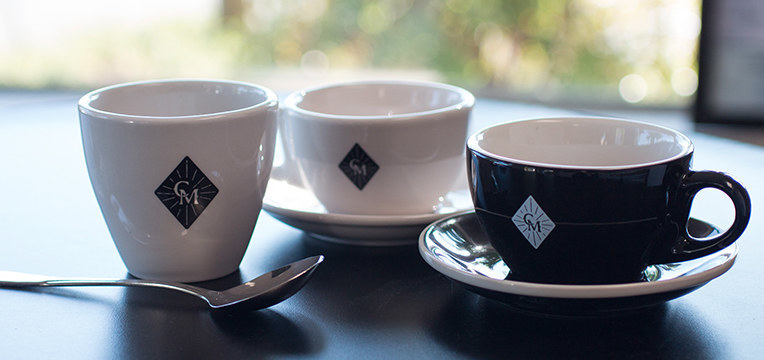 Every style of Barista Basics porcelain cup can be customized with a logo or custom artwork. Customize one, or customize 100. Want to resell them? Send over your seller's permit and you can receive wholesale pricing.
Customization requests can be sent to info@espressoparts.com. Our order requirements are listed below.
Screen Printing Requirements:
Set-up fee: $60*
Screen printing price per item: $1.28
Shipping price will be determined in a quote
Minimum order quantity to avoid additional fees: 108 items
Screen printing price includes printing a single color on only one side of the item. For additional colors and graphics support, we will provide a custom quote. At this time we are unable to print inside items except for coffee sample trays.
Gold and silver printing is available and may have an additional charge. Please contact Customer Service for a quote.
Wholesale and volume discount prices are available on all of our cup collections.
Your supplied artwork must be of professional grade.
For bitmap images (JPG/TIFF/BMP, Photoshop, Corel PaintShop Pro), resolution should be at least 300 dpi or 600 by 600 pixels in size for a 2" by 2" image.
We prefer vector files (Adobe Illustrator, Corel Draw) files to prevent quality loss. Art work corrections may include additional fees.
* Different items & logo size changes may initiate an additional charge.
Porcelain has a reputation for being desired that predates the 10th century. Upon returning to Italy at the end of the 13th century, Marco Polo is said to have brought a small white porcelain vase from his travels. That small porcelain vase was enough to entrance the Western world, and porcelain was soon considered a luxury item of immense value.
It's value was increased by the mystery surrounding its creation. For 300 years after its arrival in Europe, the process of manufacturing porcelain was kept a secret until Francesco de Medici created a similar, albeit subpar form in the late 16th century. Europe did not match the Chinese quality of porcelain until the early 18th century, when it took a physicist and an alchemist to recreate the formula.
Porcelain is beautiful, and it's easy to see why it's so desirable for display pieces, but it's practicality is what makes it ideal for dishes. Being less porous than ordinary ceramics, it is more durable, it can better insulate and retain temperatures longer, it doesn't absorb flavors of previous drinks, and it is germ resistant. Simply put, porcelain makes the best coffee cups. It keeps coffee hot over longer periods of time, it's easier to clean, and you can use it over and over again without altering the flavor of your coffee or losing that signature sheen that earned it the moniker "white gold".
Sources: